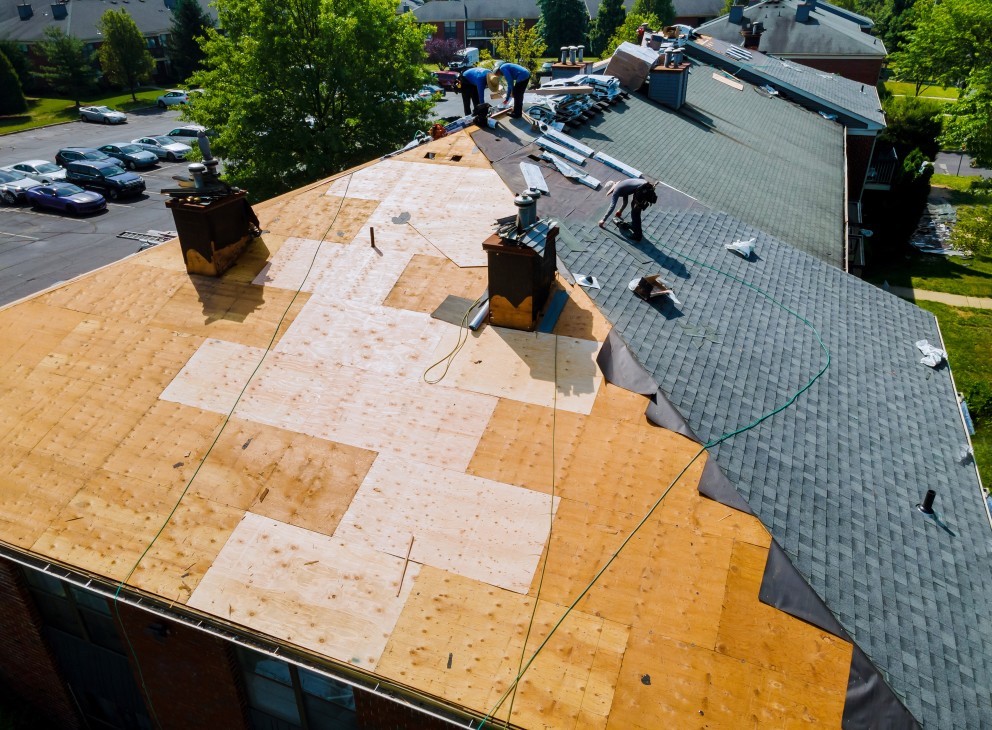 18 Nov

Residential Roofing Options: The good, better and best
Types of residential roofing
Choosing the right roof for your home is an important decision since it accounts for 30%-40% of its curb appeal. As a homeowner, selecting the style and color that fits your home can be a huge task without the proper information. Outside of being aesthetically pleasing, you can also increase the value of your home for years to come by choosing the right type of roof.
When it comes to residential roofing options, shingle roofs and metal roofs are the most common in the Middle Tennessee area and both have much upside to homeowners, depending on your needs.
Shingle Roof Options
The roof is a critical component of any property, which is why it's important to choose the right style and materials. Roofing protects your property from the elements, but it also plays an important structural role and impacts the energy efficiency of your home. What's more – your roof affects the curb appeal of your property and can enhance the character and aesthetic of your home.
For many property owners, a shingle roof is their top choice when it comes to roofing options. Known for its durability and visual impact, a shingle roof can complement the exterior design of your property while providing the functional and robust features you need.
What is a Shingle Roof?
Asphalt shingles have been used for roofing for over a century, although today's materials are a little more advanced. Even if you're not familiar with the terminology, there's no doubt you've seen a shingle roof before. They're characterized by the individual shingles that overlap one another to create a stunning and impressive feature.
Individual roof shingles are relatively small in size and typically measure 12 inches wide by 36 inches long. They are applied in rows, starting at the bottom of the roof first, and attached to the rafters.
Once the first row is fixed into place, the second row is installed, with the shingles slightly overlapping the row beneath. This process is continued to the top of the roof so each row partially overlaps the one below it. It's this installation method that gives shingle roofs their unique look and enhanced functionality.
What Type of Roof Shingles are Best?
There are a wide variety of roof shingles to choose from depending on the aesthetic you want to create, your budget, and how long you want your roof to last. To learn more, take a look at some of the most common types of roof shingles:
Asphalt
Asphalt remains the most popular type of roof shingle, although there are three main options to consider: 3-tab asphalt, architectural style asphalt, and fiberglass asphalt. 3-tab asphalt is one of the most cost-effective roof shingle options on the market and fast installation means your new roof can be completed in a short amount of time. Typically, a 3-tab asphalt roof can last around 15-20 years.
Architectural style asphalt shingles feature an extra layer of material and come in a wider range of designs than 3-tab shingles. Although shingle roof costs do increase if you opt for architectural style asphalt shingles, they can last for 30-50 years, with the right maintenance.
Wood
Wood shingles are a great way to enhance a traditional property. Although wood shingles may need to be treated before being fitted, they can last between 15-50 years, depending on the type of wood that's used. Wood shake shingles are slightly different from standard wood shingles, are they are formed by hand, usually from cedarwood. This increases the cost associated with replacing a shingle roof, but a wood shake roof can last 30-40 years and is a stunning, rustic addition to any property.
Metal
The use of metal roof shingles on residential properties is a relatively new phenomenon, but it's increasingly popular. Steel, aluminum copper, and zinc shingles are available in a wide range of colors, so it's easy to find a shade that complements your property. Given their lightweight properties, metal shingles can be a great option for structures that aren't equipped to support a heavier roof. Furthermore, metal shingle roofs can last up to 75-100 years, so they are certainly a durable option.
Slate
Slate roof shingles are, perhaps, the most long-lasting option, with slate roofs typically lasting 60-150 years. However, slate is a heavy material, which means it may not be suitable for all properties. While a slate shingle roof can create a stunning aesthetic, installation does take a little longer than other types of shingles.
Rubber
Designed to look like traditional asphalt, rubber shingles can boost the energy efficiency of your home and provide a durable roofing option. Depending on whether you use TPO, PVC, or EPDM shingles, you can expect a rubber shingle roof to last for around 15-25 years and they won't require much maintenance during this time.
Although these are some of the most popular types of shingles, you'll find plenty of others on the market. Tile, clay, fiber cement, composite, plastic, and even solar shingles are widely used on residential properties and all offer their own range of benefits.
How Much Do Roofing Shingles Cost?
As you can see, there are a wide variety of options to consider when replacing or adding a shingle roof to your property. Generally, shingle roof costs depend on the type of shingles you choose to use, as well as the size of the roof and the installation process used.
Slate shingles may be more costly than asphalt, for example, but they do tend to last far longer. Similarly, wood shake shingles tend to be more expensive than wood shingles due to the fact they are hand-crafted, rather than mass-produced.
To learn more about shingle roof costs, contact a member of our team to arrange a free, no-obligation quote.
When Should a Shingle Roof Be Replaced?
The lifespan of a shingle roof will depend on what type of shingles are used and what level of maintenance is carried out once the roof is completed. Of course, there are times when shingle roofs will need to be repaired or replaced more quickly than you expect. If your property sustains storm damage, for example, shingles may need to be replaced to maintain the integrity of the roof.
To ensure your roof remains in optimal condition, our qualified team can undertake roofing inspections at any time. With an expert assessment, we can identify existing or potential issues and provide a range of repair or replacement options.
To find out more about shingle roof options, contact Quality Exteriors today at 615-216-6455.
Metal Roof Options
Metal roofing has evolved into an attractive alternative to traditional composition shingles and offers many advantages. Currently, it is available in a variety of styles and designer colors to add beauty and value to your home.
Metal roofs can last twice as long as conventional ones, can withstand all types of weather conditions, and can reduce cooling costs by 25% or more. 
With years of experience installing metal roofs in Tennessee, Quality Exteriors knows which materials and installation techniques work best here. We also have our own standing seam machine, which enables us to fabricate custom roof panels on the job site for the best fit and quality. 
How Can a Residential Roofing Professional Help?
By hiring a roofing contractor, you can handle your roof problems in a straightforward, efficient, and convenient manner. Roofing contractors can offer you many different options based on their years of experience in the field and your budget and preferences.