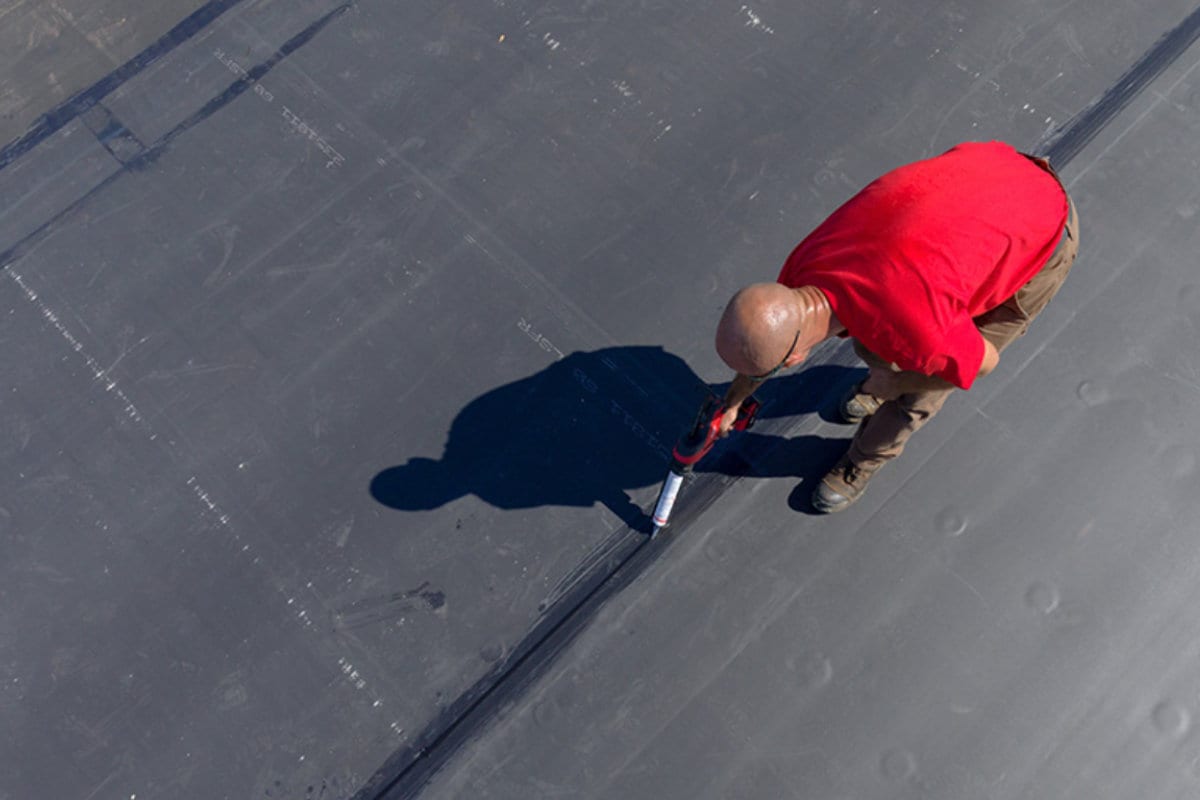 01 Jul

Three items to know about flat roofing
Flat Roofing: What you should know
Flat roofing or membrane roofing is most commonly found on commercial buildings. They can be long-lasting but come with their own set of advantages and disadvantages.
Before you decide on what type of roof your building needs, let's look at a few things you should know about a flat roof.
What are the types of flat roofs?
The three most commonly used flat roof membranes are EPDM, PVC and TPO.
The most tried and true membrane roof is EPDM (ethylene propylene diene terpolymer). This synthetic rubber membrane is mostly used in commercial use because it is easy to apply, is low cost and is long-lasting.
PVC (vinyl) membrane roofing is the most expensive but offers the best return on investment from its energy efficiency. Because it's UV resistant and white, PVC roofs can reduce energy costs. The color reflects about 65 percent of solar energy away from your building. PVC membranes are recognized by the ENERGY STAR Roof Products Program and the U.S. DOE.
TPO (Thermoplastic Polyolefin) membrane roof is similar to EPDM and PVC in that it is single-ply and can be fastened mechanically or ballasted. It isn't as flexible but has a greener manufacturing footprint than PVC and is less expensive.
How long does a membrane roof last?
On commercial buildings, flat roofs are beneficial, most because of their long lifespans. If properly taken care of, a flat membrane roof can last up to 50 years.
Typically, they can last several decades, depending on the material. EPDM roofing can last more than 25 years, PVC membranes more than 20 years and TPO between 15 and 20.
What are the advantages and disadvantages of a flat or membrane roof?
The biggest advantage of a flat roof is cost. Compared to a traditional shingled roof, membrane roofs are fairly inexpensive. The average cost of materials is $0.80 a foot, making it very affordable, especially when you factor in the long lifespan.
Flat roofs also create usable space that can house HVAC units and even solar panels.
The biggest disadvantage is drainage. You have to make sure that your flat roof is properly installed so that you don't end up with unwanted leaks from puddling. But another advantage it the fact that it's flat makes it easier to access your roof for repairs.
Quality Exteriors has extensive knowledge in flat roofing and if you'd like more information, contact us today.