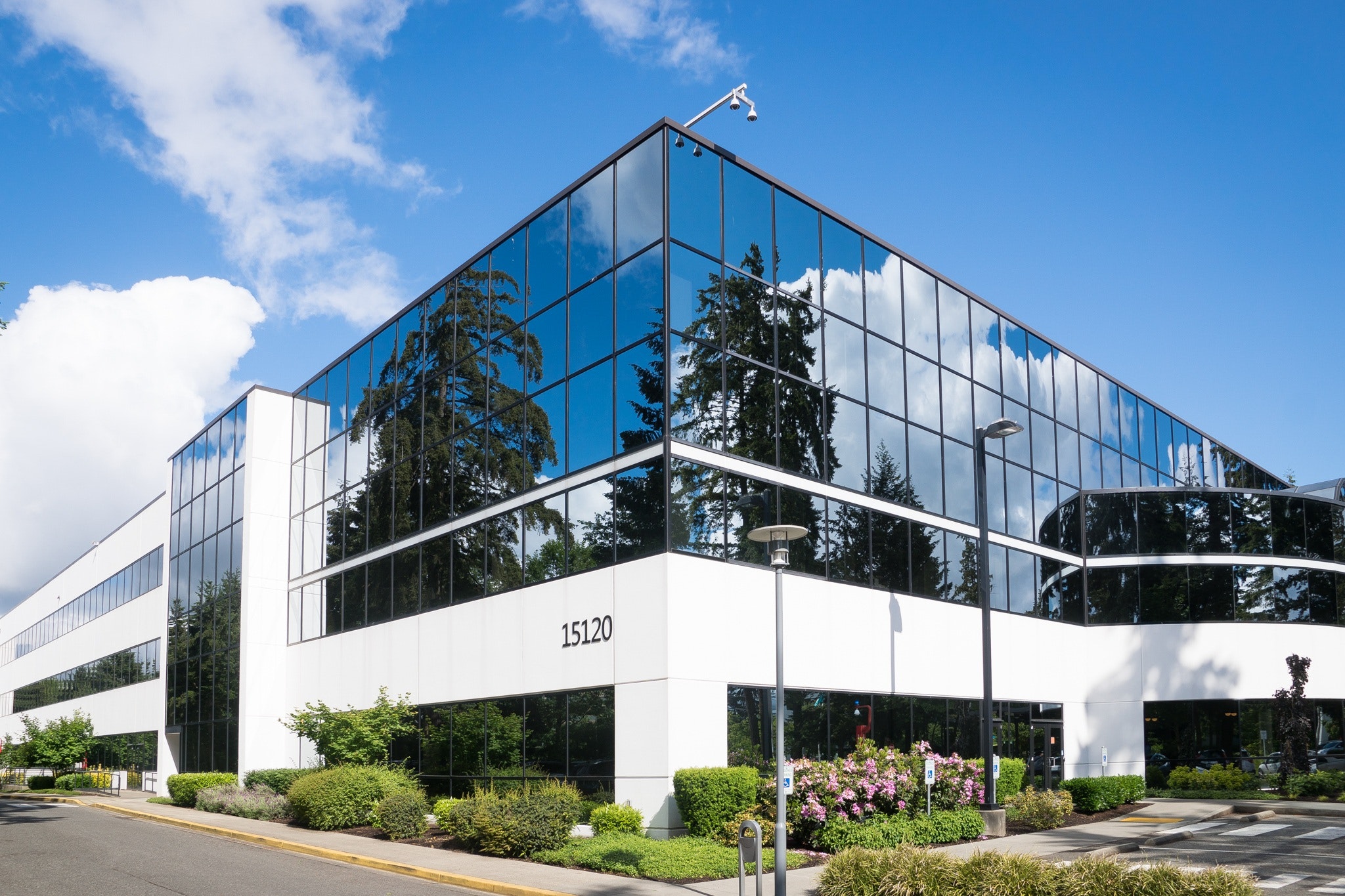 15 Mar

What are the different types of commercial roofs?
There are two main types of commercial roofs, flat roofing and steep slope roofing
Whether you're looking for the best roofing solution for your office, store, or church, it's important that you know a little about the different types of commercial roofs that are available so you can make the right choice and choose the right materials for you.
With that in mind, we've put together information o on the main commercial roofing options currently available to you. Read on to find out more.
Two main types of commercial roofing
Although there are numerous options when it comes to commercial roofing materials, it is fair to say that there are two main types of roofing: flat roofing and sloped roofing, so let's first take a look at them.
Flat commercial roofing
Flat roofs are often referred to as low-slope roofs and they are very common in the commercial sphere. As the name suggests, they are not quite completely flat, and must have a slope of 3:12 or less, but have such a small slope that for all intents and purposes, calling them a flat roof is accurate enough.
You may have noticed that a lot of commercial buildings boast flat roofs. This is undoubted because they tend to be cheaper and easier to install. They are also generally easier, and more affordable, to repair, and easier to access should there be a need.
That being said, they do have some drawbacks, namely the fact that they are less able to deal with heavy rainfalls and other wintery weather because they do not have enough of a slope to drain water and snow away as effectively as a sloped roof.
The average cost of flat commercial roofing in the USA is $8,240 for a roof measuring 1600 square feet, depending on materials.
Steep slope commercial roofing
A steep slope commercial roof is the kind of roofing you most commonly see on residential homes. It has much steeper slopes with a ratio of more than 3:12, which means the rise of the roof must be more than 3 inches greater for every 12 vertical inches. 
The main benefits of steep-slope commercial roof spaces are that they tend to look very attractive and that they typically have a lifespan that is 50 percent longer than the average flat roof, although this will depend on the materials used.
Steep slope roofs can also deal better with adverse weather conditions than flat commercial roofing.
The average cost of steep slope commercial roofing in the USA is $8,800 for a 1600 square foot roof depending on materials.
Common commercial roofing materials
Now let's take a look at some of the most commonly used commercial roof materials.
Flat commercial roofing materials
Ethylene Propylene Diene Terpolymer
EPDM uses a black single-ply membrane sometimes referred to as rubber roofing. It is most commonly used for flat roofing and is a good solution because it is UV resistant and easy to maintain. If you are based in an area with extreme temperatures, it is an excellent choice.
Thermoplastic Olefin
This heat-welded system is extremely durable and also does very well in hot temperatures due to its white reflective surface that can help to keep buildings cool. Other benefits include extremely environmentally friendly and easy to install.
PVC 
PolyVinyl Carbonate roofing systems are probably the easiest to install when it comes to flat commercial roof projects. They're also great at resisting punctures and chemical effluents like grease and even acid rain. If your business is based in an area where any of those things are a problem, PVC commercial roofing is a great choice.
Steep slope commercial roofing materials
Metal 
Metal roofs are a great option if you're looking for something cheap and durable for your commercial roofing, although they are not always the most attractive of options available.
Green roofing
Green roofing systems are relatively new, but theta re very popular due to the fact that they are better for the environment, great at draining water, and very energy efficient.
Slate
Not the cheapest of commercial roof options, slate is nevertheless a good choice because, not only does it look good, but it's extremely durable, very long-lasting, and extremely non-absorbent.
Asphalt shingles
Asphalt shingles are ideal for commercial roofing. They are extremely weather-resistant, hold up well against UV rays, and are pretty fire-resistant, They're also fairly easy to install and long-lasting.
If you want to know more about the different types of commercial roofs available to you, and which materials would suit your project best, talk to one of the experts at Quality Exteriors today by calling 615-216-6455.