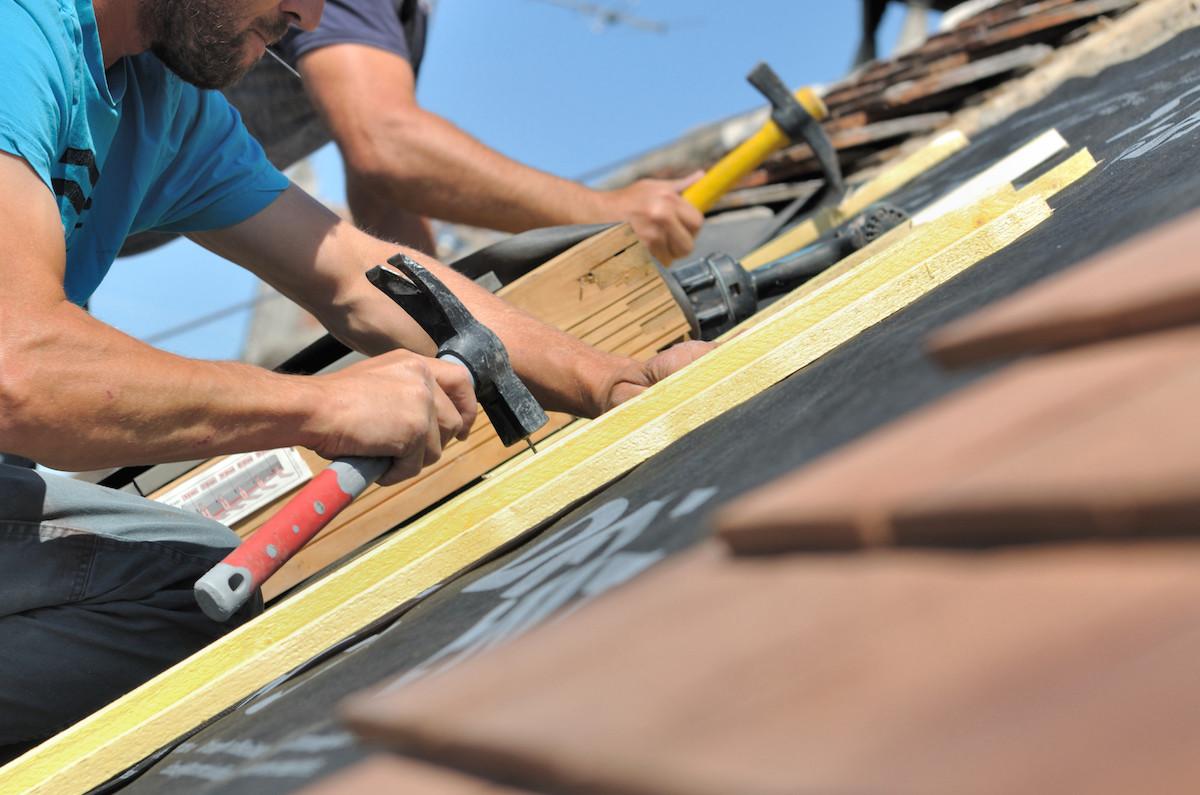 08 Feb

Residential Roofing: A Homeowner's Guide to Roof Installation Costs
Residential Roofing Costs
Climate disasters wreaked havoc throughout Tennesse last year, costing billions of dollars. Last year alone, Tennessee had six events that tallied almost $7 billion per disaster.
Changes in weather patterns have made it even more crucial that our residential roofing can withstand severe storm systems. But what goes into the cost of a new roof, and how can you decide which materials are best for the region you live in?
We have put together a complete guide on roof installation costs and how to start prepping for the unpredictable in 2022, so keep reading for more information!
What goes into the cost of a new roof for your house? Outside of labor, the materials most will need include:
Shingles
Flashing
Gutters
The costliest materials on this list are roofing material or shingles. Shingle roofing and metal roofing are the two main options homeowners can choose from.
Asphalt shingles are the most popular go-to method, especially in the Tennessee region, since it is durable and has a diversity of colors. We can custom-design asphalt shingles more than other materials for trendier styles and colors.
However, metal roofing has quickly moved its way up the polls. For starters, metal roofing lasts almost twice as long as shingle roofing. It can help reduce our energy bill by approximately 25% since it reflects heat away from the house.
You will find the higher cost of a metal roof starts paying off during the hot summer months. Upgrading to a metal roof means you may never replace our roof during your lifetime.
Additionally, look for companies with a standing seam machine if you want customized metal roof panels. Not all companies offer these machines, and it can be a difference-maker if your roof will stand out from the crowd.
Metal or Asphalt Shingle Roofing?
If you want something short-term, aesthetically pleasing, and cost-friendly, asphalt shingles check all of those boxes. For a long-term investment, metal roofing will give you decades more but can cost almost twice as much.
How do you want our roof to look?
Asphalt shingles are highly customizable, and you can have them give an appearance mimicking tiles, slate, and wood shakes. Metal roofing follows close behind but may not be as diverse as asphalt.
However, it does offer different colors and can closely resemble asphalt. Ultimately, ask your contractor for pictures and reviews from both roofing materials to determine which material looks best.
One of the main benefits of a metal roof is that it is non-absorbant. It holds up better with temperature fluctuations and typically requires less yearly maintenance than asphalt.
Roof Repairs vs Replacement
How can you determine if you need a new roof versus a replacement? It should come as no surprise that the cost of a new roof is substantially more than simple repairs.
Yet, minor repairs can add up over time and eventually lead to a new roof, especially if your roof is already inching towards its life expectancy. For most roofs, if you've had it for almost two decades, you are better off replacing them. A new roof can also increase the value of your home if you want to put it on the market soon.
Sometimes after big storms, you may need a simple shingle replacement. Shingles are one of the more common roof repairs, but it can be challenging to find matching colors, and if you need multiple areas fixed, you may spend thousands of dollars.
Clogged gutters from leaves or debris can also create a world of havoc from leaks, mold, and more. Replacing gutters or regularly cleaning them can help prevent water from seeping into you home's foundation.
Cost of Roof Installation
Roof installation can cost as much as $20,000 for 3,000 square feet homes. This high-end estimate could include metal roofing or other add-ons, whereas asphalt roofing could drop that number below $10,000.
What goes into the overall cost of a new roof?
Typically, labor makes up at least 25% of the cost, but it can increase to 35% or more. Materials account for approximately 50%, and disposal or extra jobs can tack another 5% to 10%.
For example, a new roof overlay will cost much less than tearing off your old roof for a completely new one. When looking at shingles, three-tab options will cost anywhere from approximately $50 to $125 per square foot, while laminated shingles will cost closer to $280 on the upper end.
If you want to mimic wood shakes or slate, then expect almost $200 per square foot. Unique designs and shapes can also affect your total bill.
Shingles and exterior roofing material aren't the only things to consider. What goes under your roof is equally as important, including:
Water shield
Underlayment
Venting
Venting and water shields can also help prevent leaks and reduce energy costs. When considering a new roof, it is better to replace and add things upfront rather than going back in later. The cost of labor might outweigh the benefits, so even if you exceed total costs now, it may end up paying dividends down the road.
Find Your Roofing Contractor
A residential roofing company in Tennesee should specialize in installing roofing materials that are unique to the region and climate. A new roof isn't cheap and can quickly increase to $20,000 or more.
Quality Exteriors is one of the leading companies for roof repairs and installation in your neighborhood. From shingle roofing to metal, we have plenty of customizable options that will protect your home and give it curbside appeal. Contact us today for more information and estimates on a new roof.