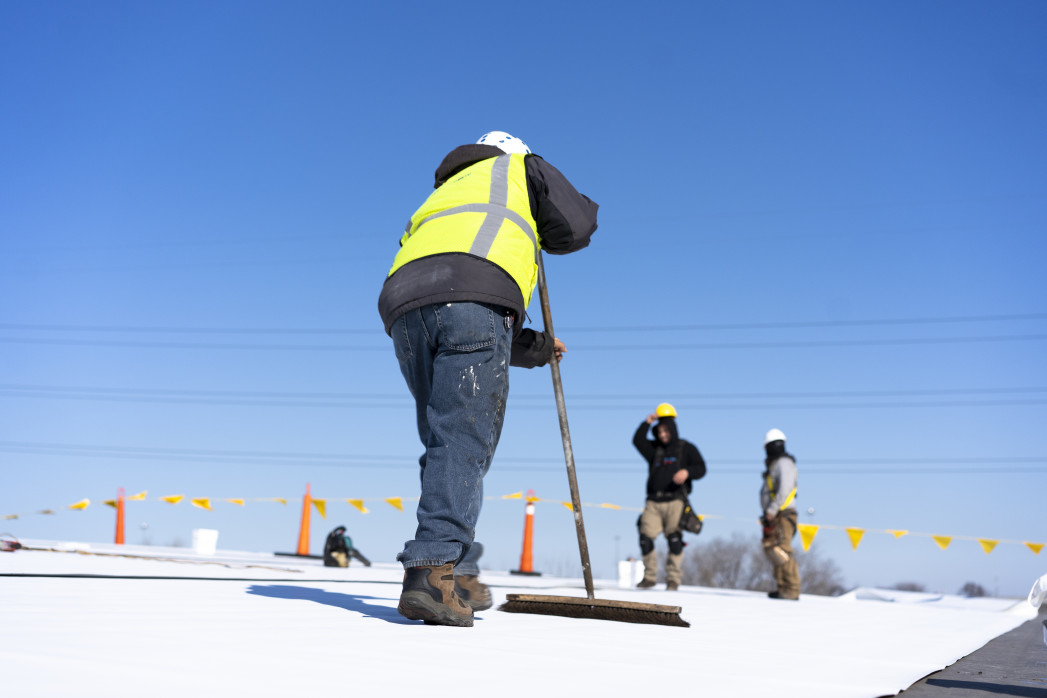 28 Sep

Commercial Roofing: Understanding the basics
Commercial Roofing: Understanding the basics
If you are looking into how commercial roofing works and potentially undertaking a commercial roofing project yourself, look no further.
Commercial roofing, which operates differently to residential roofing, comes in many shapes and sizes and can be accessed through a few different avenues.
If you are a business owner, you have come to the right place. If you are a contractor, read more on how your clients see your business. In this article you will find out the difference between commercial and residential roofing; the pros and cons of commercial roofing projects and the types of materials that are preferable for commercial roofs.
What makes commercial roofing different when compared to residential roofing?
Residential roofing refers to the roofing job in a place you live, rather than a place you work. Of course, there isn't much difference – a roof is a roof, after all – but there are a few key discrepancies between the two which are worth mentioning.
Style
While a traditional residential roof is usually slanted and made up of slate tiles, commercial roofs are often flat, functional and simple. 
Upkeep
Due to the fact that commercial buildings are often owned by companies who want to reduce costs and maximize efficiency, often commercial roofs are built in a purely functional way and maintained closely.
This means more debris clearance, faster repairs, and expensive contracts with construction firms. A residential roof, however, tends to be a more case-by-case fixture and is repaired only when actually broken, by the owner of the property.
Pros and Cons of Commercial Roofing
Commercial roofing can be high-spec and good quality, but also has its downsides. If you run a business and are looking for a purpose-built space from which to operate, here are the pros and cons of undertaking a commercial roofing project.
Pros:
Fewer square feet. Because a commercial roof is usually flat, it will cover fewer square feet than a sloped residential roof. This brings your costs down because you are only covering the necessary space for your roof.
No-frills roofing. Commercial property is only usually intended for function, not aesthetic. Unlike your family home, commercial roofing tends to be a no-frills affair, meaning it is less expensive to undertake a commercial roofing project than a residential one.
Environmentally friendly options. Due to commercial roofs often having flat roofs, it is easier to install solar panels on them, or even create a roof garden which could house herbs, vegetables and space for employees to hang out and take a break. This is better for everyone – the planet, and the people who live in it.
Easier access for repairs. On a slanted residential roof, it can be quite unsafe for repairmen to climb onto the roof to inspect or repair it. Specialist equipment like scaffolding is usually needed for that. However, with a flat commercial roof, repairs and maintenance can be completed in any weather, safely and securely.
Cons:
Tighter regulations. Depending on where you live, your commercial roof could be subject to inspections and mandatory reports and repairs. This is for the safety of your employees and for the viability of any investors and shareholders too. However, it can end up costing a pretty penny in repair and maintenance bills.
Drainage issues. The main reason residential roofs are slanted is that this allows for easy drainage. If it rains onto a slanted roof, the water can run down the slanted roof and run off the roof entirely, preventing any buildup. However, a flat commercial roof will potentially build up rainwater if a proper drainage system is not built-in. Water buildup can cause leaks into the interior of the building and build-up repair and maintenance costs too.
Types of Commercial Roof Options
Although flat roofs are most common for commercial buildings, there are other types of commercial roofing available. Although slanted roofs are more expensive, they can be invested in for better drainage for your commercial building. Slanted roofs can also be subject to tight regulations and can be damaged by weight such as heavy snowfall, which can damage the roofing structure. 
Materials for Commercial Roofing
If you are thinking of undertaking a commercial roofing project or hiring a contractor to complete the work, you will probably be interested in what kind of materials are regularly used for roofing projects. Here are some reliable commercial roofing materials and their advantages.
Metal. There are two ways to fit a metal roof – retrofitting and regular metal fitting. Retrofitting involves taking metal from your roof and refitting it into a protective layer which is a cost-effective and environmentally friendly way to refit your roof. If that isn't for you, try steel cladding. This is highly cost-effective but is not particularly aesthetically pleasing.
PVC.

PVC is long-lasting and fire-safe, which is why it is so popular for commercial roofing. PVC is a synthetic plastic polymer that is weather-proof and also provides a thick, energy-saving layer that helps reduce your heat costs. However, PVC sometimes requires a higher fee, so it might not be affordable for every business owner.



TPO.

TPO stands for thermoplastic polyolefin and is similar to PVC, but less expensive. For this reason, it is a highly popular choice for commercial roofers.



EPDM.

Unlike the other listed plastic-variant roofing options, EPDM is black and rubbery – although a white layer can also be applied. This is a durable, weather-proof roofing option that many commercial roofers choose.
Using these helpful tips and guidelines, you can undertake your roofing project with an informed eye. Commercial roofing is a growing industry with many paths to take; use these tips to help you choose the right one.