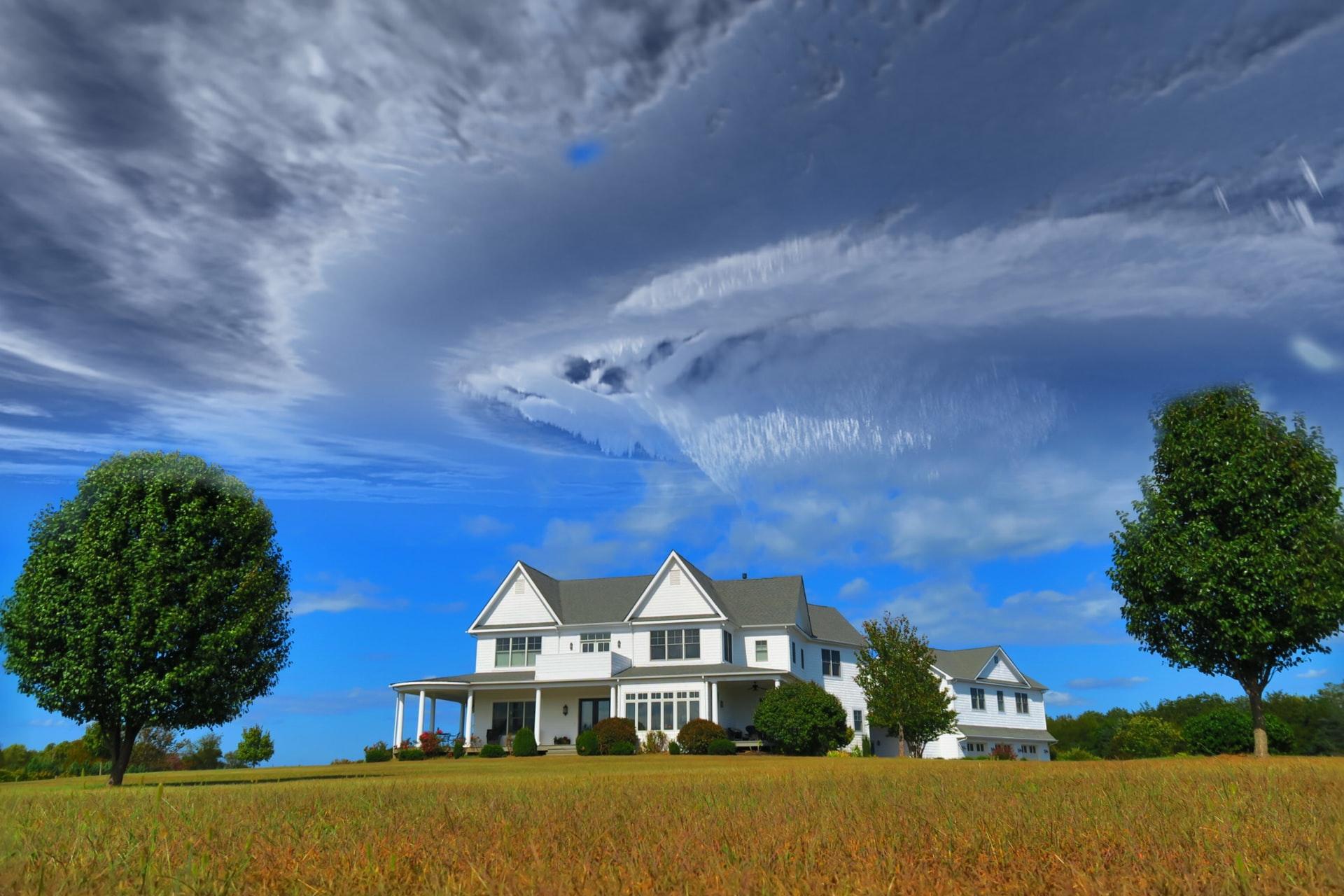 03 May

How to check your roof for storm damage and what to do next
Early detection of storm damage is a key first step
According to the National Weather Service, there have already been seven instances of extreme weather in Tennessee in 2022. One of the best ways to protect your family and home in what could be a stormy spring and summer is to educate yourself on what storm damage to look out for on your roof, how to file an insurance claim, and how to find reputable, dependable roof repair. At Quality Exteriors, we're here to provide the education and roof repair services Tennessee homeowners need.
Signs of Roof Damage after a Storm
While modern asphalt shingles can survive wind gusts of up to 150 mph, sustained periods of heavy wind coming from multiple directions tear shingles completely off roofs. Hail damage can also ruin an otherwise healthy new roof.
Along with missing shingles or bits of debris around your yard, check your roof for:
1. Granule Loss
Mineral granules aren't just decorative — they protect your roof against moisture buildup and algae growth. If your shingles have long horizontal lines across them after a storm, wind or hail may have degraded the granule covering. This is especially dangerous for older roofs and roofs with composition shingles.
2. Cracked, Bubbling or Blistered Shingles
If your shingles have cracks, bubbles or blisters, moisture may have blown underneath them. While this may seem like an aesthetic problem, excess moisture under your shingles can cause leaks and long-term structural damage.
3. Damaged Vents, Skylights, Flashing and Chimneys
Storm damage isn't limited to shingles. Check the area around any roof installation for crumbled bricks, damaged seals and broken flashing. These are the perfect spots for catastrophic roof leaks to start.
4. Gutter Damage
In extreme weather, wind, hail, and rain may dent gutters and downspouts. They can even tear them from your home or leave them hanging dangerously from the edge of a roof. However, gutter damage isn't always so obvious. In some cases, pieces of damaged shingles and other debris clog downspouts and gutters. If unaddressed, water from clogged gutters may back up under the roof coating and cause massive leaks.
5. Mold and Rot
While any roofing material could develop mold, damaged wooden shingles are at high risk for it. It may not start immediately after a storm, so hire a roof inspector to assess if your damaged roof is likely to rot.
---
Filing an Insurance Claim for Storm Damage to Your Roof
Before filing an insurance claim for storm damage to your roof, document everything you can. Take pictures, and notes, and don't discard debris unless it poses an immediate safety threat. If storm damage has made your home dangerous or uninhabitable, ask your insurance provider about approved emergency repair services. After that, follow these five steps for a painless claims process.
1. Get a Professional Inspection
Many insurance companies require a professional roof inspection before they process a claim. At Quality Exteriors, we provide no-obligation storm damage roof inspections that include costs, estimates, and paperwork you can send to your home insurance provider.
2. Contact Your Insurance Company ASAP
With a storm damage assessment scheduled, contact your insurance company to file a claim. Have any documentation the inspector provides ready and keep your insurance claim number handy for future repairs and payment.
3. Coordinate With the Inspector and Insurance Adjuster
Most insurance companies will send out an insurance adjuster within 48 hours after you file a claim. If possible, have the company that completed the inspection send a representative when the adjuster arrives. You have enough on your mind after a severe storm — let a professional work with the insurance company.
4. Fill Out Insurance Company Paperwork
The insurance adjuster will inspect your roof and tell you how much monetary damage was done. Go over this documentation with the adjuster and your professional roof inspector or contractor. This paperwork is how a contractor determines the cost and nature of your roof repairs.
5. Prepare For Payments
In many cases, the insurance company will work out a payment plan for any services you need. If you're working with a licensed roofing contractor, they can help you review and understand these terms.
---
Finding a Trustworthy Roofer to Repair Storm Damage
Finding reliable roofers is always important, but after a storm, it can mean the difference between getting scammed out of hard-earned cash and having a roof ready to face more storms. Here's what you should look out for after a storm.
1. Avoid Storm Chasers
We're not talking about daredevils getting exciting footage of severe storms. In contracting, storm chasers are shady companies that exploit communities affected by deadly weather. They might:
Exaggerate small damage
Appear out of nowhere after a storm promising quick, cheap repairs. Storm chasers often have few online reviews and have no ties to the community.
Claim they will bill the insurance company a higher number and pass the savings along to you (spoiler alert: they won't)
Not have insurance or be licensed by the state
Avoid working directly with insurance companies
2. Look for Contractors Who Work With Insurance Companies
A professional roof repair company will be with you every step of the way, including when you're working with insurance adjusters. Look for a company that makes the process as transparent as possible. It's OK to have questions and expect clear answers during this stressful time.
3. Ask About Licensing, Insurance and Affiliations
Roofers and contractors in Tennessee only have to be licensed for projects costing $25,000 or more. In addition to state licensing and insurance, ask and verify roofers' affiliations with national trade unions, charity organizations and the Better Business Bureau. Companies with those qualifications have strong community ties and if something goes wrong, you'll have ways to address it.
For a reliable, community-oriented roofing company in Tennesee that meets all of those standards, contact Quality Exteriors. As a family-owned contracting company accredited by the BBB, we've proven our commitment to craftsmanship and Tennessee homeowners through years of service. If you're intimidated by working with insurance companies, rest assured that our specialists will guide you through every step of the process and protect your home with high-quality storm damage roof repair.